I'm a musician. I play for my school orchestra and teach some students at school at the same time (I also get money for that, isn't that great?). I played, or rather we all played, the flute (Blockflöte) in elementary school, long time ago but everyone hated it while I had found enjoyment in it. Fast forward to the 5th grade and I found myself playing the trumpet in my school orchestra, which was very fun since at that time everything seemed so slowly paced and we had time for everything. Fast forward ANOTHER 3 years and I found enjoyment playing the little piano keyboard in FL Studio, with the keyboard, not the piano keyboard, a keyboard for typing keys. So I told my parents that I wished for a piano keyboard as my birthday gift and woops there I got myself one!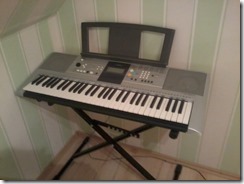 It's a Yamaha E323. It has no paddles for maintaining sustain. I actually tried to get sustain working for 1 month until I found out that it was actually called "sustain" in the options.
I learned some songs but instead of reading notes (I was bad at reading notes) I decided to check out YouTube for tutorials. A tutorial like this.
It used, like many other, this program called Synthesia. You can see all the notes playing and at which time and I found that fancy. What I did was practice by looking and then trying to remember the notes. Do that like 50 times and you learn maybe like 30 seconds of a song (depending on how hard it is). But not so fast. Since my memory and yours probably too is very short-term I had to practice often, everyday. Luckily It was fun for me and very fun to show my skills to others. Interestingly all these notes I remembered where not really in my central brain, but rather in my muscle memory.
I knew nothing about techniques. Never had a single piano teacher. I had to find my own way and my own techniques.
I kept on learning songs, here are some of my favorites: The Lonely Man (The hulk), Sad Romance (Over the Green Fields OST), Requiem for a Dream and Comptine d'Un Autre Été.
I am writing this after 2 years having a keyboard and I must say that atleast a monthly practice is needed or else you may forget some parts of songs. So see for yourself, or try getting sheets for all your pieces and read them.
So for everyone out there wanting to learn piano: Its pretty easy and rewarding if you keep steady practicing and believe in yourself!
Note to myself: I still have to upload a video of myself playing some song I like. The thing is that my cheap keyboard sounds really crappy and distorted and recorded so I better get some MIDI cable and then record from my PC.